Back to Blog
Cavatica wins Bio-IT People's Choice Award
Cavatica is the data sharing platform for pediatric disease
Seven Bridges and our partners at The Children's Brain Tumor Tissue Consortium (CBTTC) and the Pacific Pediatric Neuro-Oncology Consortium (PNOC) were honored with a Bio-IT World People's Choice award for Cavatica, the collaborative analysis and data sharing platform for pediatric diseases. This award follows Seven Bridges' previous Best of Show wins for the Seven Bridges Platform in 2013 and Cancer Genomics Cloud in 2016.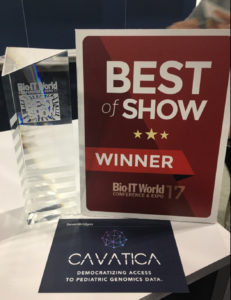 The Bio-IT World Conference People's Choice awards recognizes excellence and innovation in products for the life sciences industry. The Best in Show award is selected by the attendees of BioIT world, who come from a wide variety of backgrounds in biomedical research, data science, and information technology.
"This award is extremely meaningful for us. It really represents the vision for Cavatica, which is bringing people together around meaningful data for shared discoveries and collaboration."

—Adam Resnick, Director of Center for Data Driven Discovery in Biomedicine at the Children's Hospital of Philadelphia
Cavatica is a collaborative platform that allows researchers to collaboratively analyze molecular data from pediatric cancers, congenital disorders, and rare diseases such as epilepsy and autism. By enhancing the discoverability of the data, Cavatica enables researchers to rapidly find and request access to datasets of interest.
Improving access to important research data in pediatric disease
This award comes at an exciting time for Cavatica. The platform now features cross-dataset search, which allows users to quickly build complex queries across multiple datasets using Seven Bridges' Data Browser. Previously, there was no way to explore molecular data across pediatric and adult datasets through a single interface. By harmonizing metadata across different institutions and companies with different access policies, Cavatica empowers scientists to search the CBTTC and PNOC pediatric datasets and The Cancer Genome Atlas (TCGA), while ensuring that access to raw data is limited to those with proper access credentials.
Because pediatric cancer and diseases are rarer than adult conditions, and data is often siloed, pediatric data can be notoriously difficult to access. Cross-dataset search greatly expands discoverability across TCGA and the Cavatica datasets, all while ensuring data access policies are respected. Researchers are now able to explore across these massive datasets in a user-friendly way, building hypotheses and selecting data of interest along the way.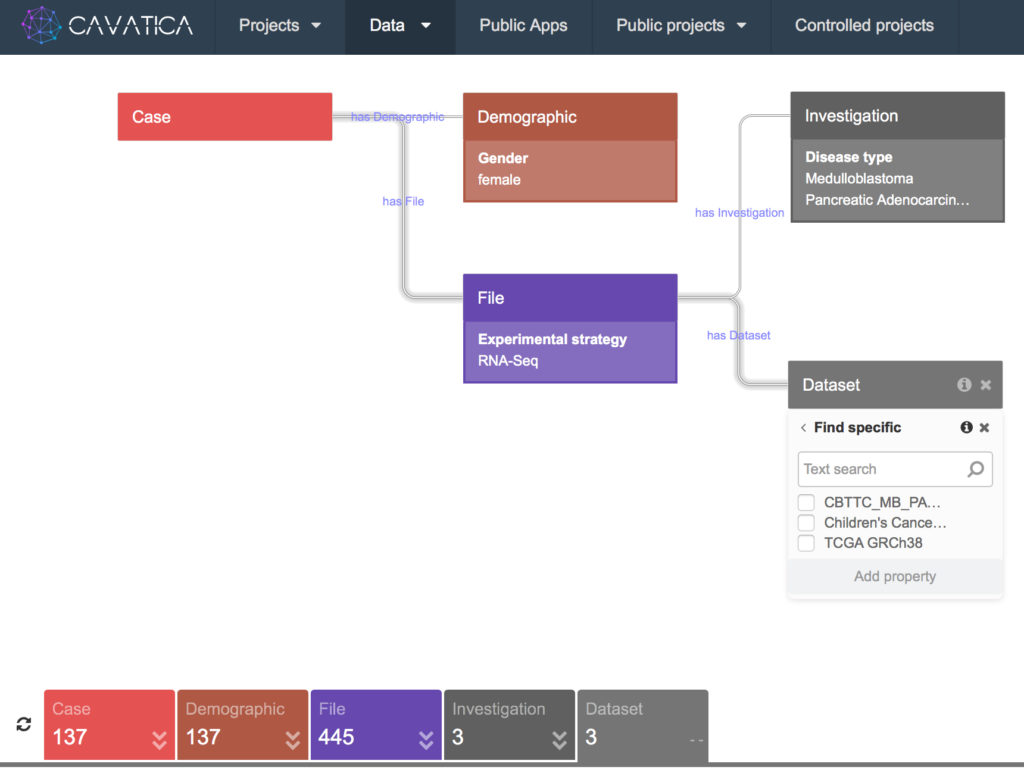 Cavatica currently hosts genomic data from CBTTC and the PNOC, who have committed to share their extensive research and clinical trial data collections in 'real time' with the broader medical research community. The two consortia collectively represent more than 20 pediatric hospitals committed to breaking down barriers that inhibit research collaboration and driving discoveries that will lead to faster treatments and cures. These data are now available in the cloud for the first time.
Pediatric researchers can begin exploring these data immediately at cavatica.org.