Back to Blog
Seven Bridges Platform Integration with SolveBio
Seven Bridges Platform integration with SolveBio
Yesterday we announced the integration of the Seven Bridges Platform for cloud-based biomedical data analysis with SolveBio. This integration enables biotech and pharmaceutical researchers to seamlessly transition from the analysis of large NGS datasets to clinical analysis and interpretation, speeding the progress of their precision medicine initiatives.
The integration is available in our Public Apps repository today, meaning any joint customer can immediately use this end-to-end workflow.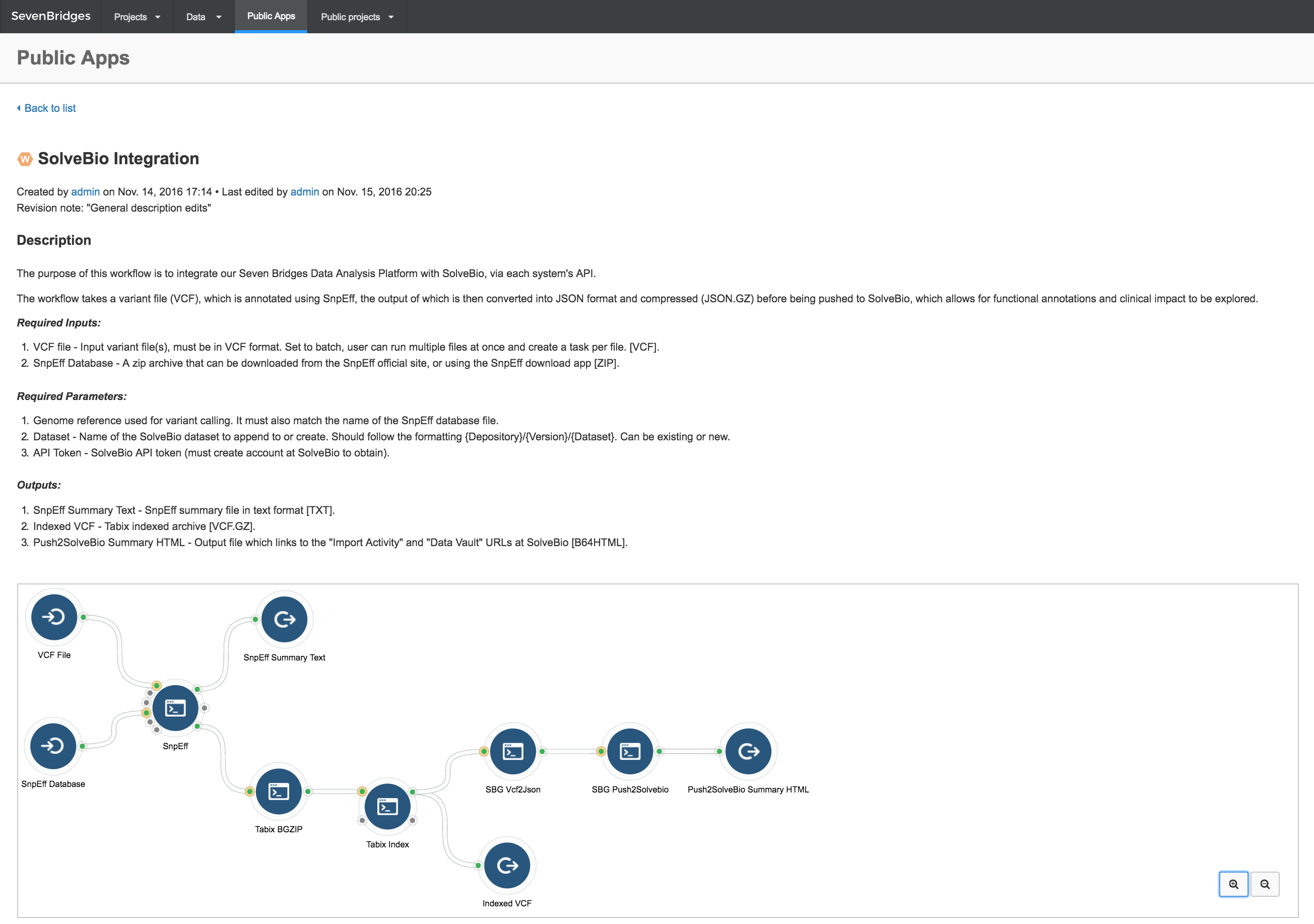 From cloud-based genomic data analysis to clinical interpretation
SolveBio was founded in 2013 with the mission of solving one of the more vexing problems in translational medicine. In partnership with some of the leading pharmaceutical, diagnostics, and CDx organizations in the world, SolveBio has developed technology which enables the use of multi-omics and clinical outcomes data for therapeutic and diagnostic development.
SolveBio's core technology allows it to index, harmonize, and link complex biological data in real-time: external data sources are continuously processed and connected to proprietary internal customer information. This allows biotech, pharma, and diagnostic customers to maintain a real-time, collaborative, in-depth view into targets, biomarkers, and clinical trials and effectively use molecular knowledge.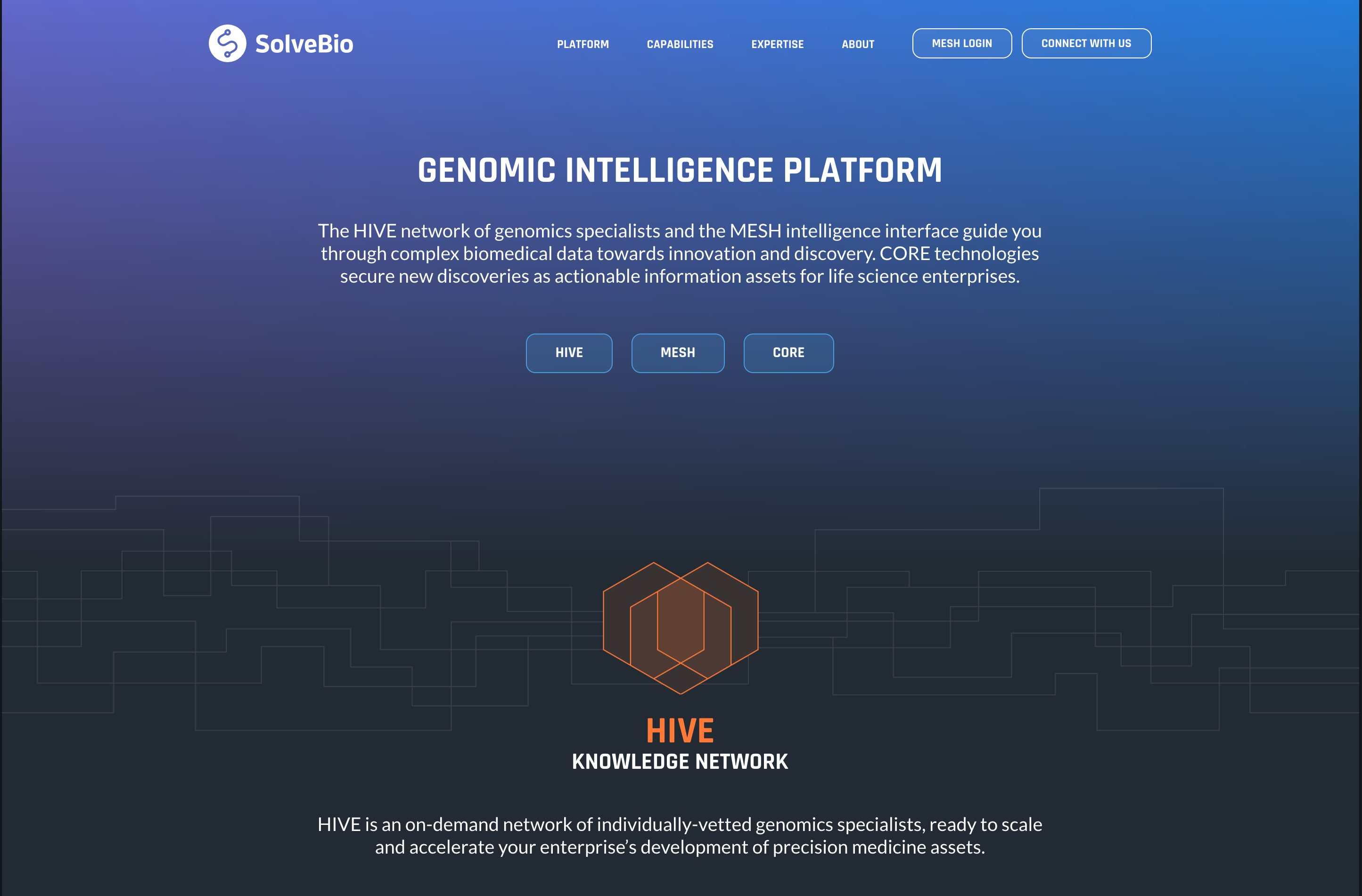 SolveBio is based in New York and has raised $4.5M to date, from Andreessen Horowitz, Max Levchin, Faridan Ventures, Nat Turner, and other leading technology and life sciences investors.
"Through the integration of our respective platforms, Seven Bridges and SolveBio are helping to accelerate the pace of precision medicine research from 'bench to bedside. Seven Bridges brings the scale of the cloud and national-scale genomic datasets, while SolveBio's deep knowledge base and contextual intelligence tools help researchers take their work to the next level in discovering new treatments for patients." — James Sietstra, President of Seven Bridges
As a result of Seven Bridges' integration with SolveBio, joint customers can analyze and annotate large genomic datasets using Seven Bridges tools and customizable workflows and then push relevant findings to SolveBio for deep functional interpretation and assessment of clinical impact. This integration gives large pharmaceutical and governmental clients an end-to-end solution for analysis and interpretation.
"The Seven Bridges Platform gives our customers access to the workflows and computational power they need to uncover variants that might be linked to disease and that are candidates for further study. Through this integration, our customers can now immediately and easily incorporate these data into SolveBio, so that translational scientists can get contextual, up-to-date, in-depth views of biomarkers and variants." — Mark Kaganovich, CEO of SolveBio
Platform integration with SolveBio already supports NCI research
Researchers at the US National Cancer Institute (NCI) are already using the two integrated platforms to analyze data from The Division of Cancer Epidemiology and Genetics (DCEG) research program, one of the world's most comprehensive cancer epidemiology research groups. The group's epidemiologists, geneticists, and biostatisticians conduct population and multidisciplinary research to discover the genetic and environmental determinants of cancer and new approaches to cancer prevention.
"As the DCEG's genomic research transitions to whole genome sequencing with larger datasets, our local HPC and database technology will no longer be enough. The combination of Seven Bridges' scalable cloud analysis platform and SolveBio's deep genomic intelligence tools provide an important opportunity to advance the goals of cancer research. Being able to quickly search and annotate hundreds of millions of variant records and create multiple data builds that can be shared securely with collaborators will be critical." — David Roberson, Bioinformatics Analyst at the NCI and Leidos Biomedical Research, Inc.