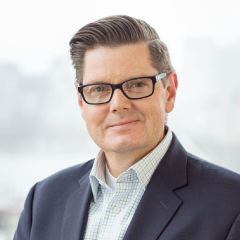 Michael Hultner, Ph.D.
Chief Strategy Officer
Michael Hultner is the Chief Strategy Officer of Seven Bridges. He is responsible for leading business development, strategy, and program management operations.
Michael comes to Seven Bridges from Leidos, where he was Chief Scientist. Prior to Leidos, he was a Fellow and Chief Scientist at Lockheed Martin where he managed a $1.6B portfolio.  Michael spearheaded the company's genomics and precision medicine adjacent market strategies, operated a research and development group, and led business development for over-the-horizon initiatives including nation-scale programs in the US, UK, and Middle East.  Michael holds a B.A. in Molecular Biology from the University of California San Diego, and a PhD in Biomedical Sciences from the University of California San Francisco.